We would like to welcome you to The Butternut Tree for your next group event or special occasion. We are happy to assist you in any way possible to ensure your event is a success. We flexible options to suit your group experience. For a party of up to 12 guests, we offer a regular à la carte or tasting menu. For a private experience up to 90 guests, we offer a choice of hors d'oeuvres, a tasting menu, or a pre-set menu.
Email us for a full event and weddings package and pricing details.
On Sunday, October 15th we invite you to Edmonton's only 4-diamond rated restaurant and event venue to a celebration showcasing our exquisite property & preferred vendors.
From 11:00am to 4:00pm come down and meet our event team, chefs, tour the space, and see why The Butternut Tree is the perfect venue for your special day!
This event is open to the public and free to attend. Everyone is welcome! Brides, Grooms, vendors, and anyone interested in hosting a wedding, celebratory event or corporate function with us in the future. RSVP to receive a complimentary welcome beverage upon arrival.
We will be offering canapés and event menu samples from our chefs. Our bar will be open serving up signature cocktails, wine and more available for purchase after you finish your complimentary welcome beverage.
Our preferred vendors will be on site with luxury inspiration and more information for your upcoming wedding.
There will be an exclusive contest to those in attendance for a chance to win a wedding package with us for the 2024 or 2025 wedding season (valued at up to $2,500).
Get your complimentary tickets now and secure your spot!
Preferred vendors including,

For more information or if you have any questions you can contact:
Samantha Auston | Event Manager
Jillian Fonteyne | General Manager
p. 780.760.2237
e. [email protected]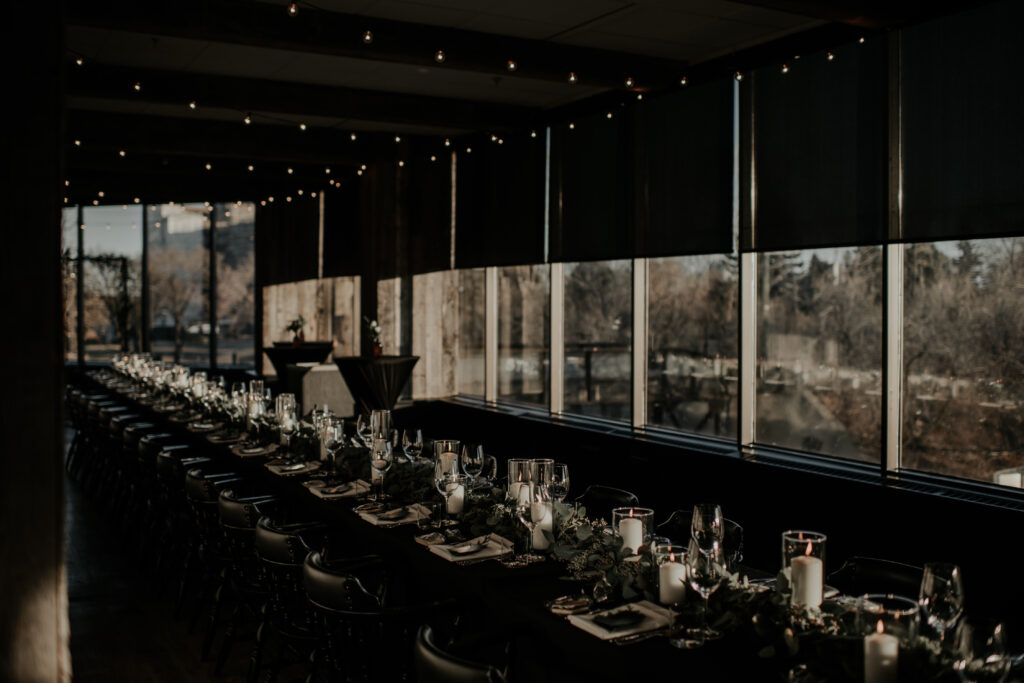 Winter Wedding Promotion

January through April 2023 & 2024
$1000 off your wedding package with us*
*does not apply to ceremony only package A
The Butternut Tree is just a stone's throw from the beautiful Alberta Legislature grounds and just off Edmonton's majestic river valley. A room with a panoramic view, our restaurant pays homage to the Canadian frontier, while showcasing seasonal ingredients from Canada's distinctive terroir.
Everything we do at The Butternut Tree is aimed at being welcoming and inclusive. Guests are encouraged to interact and explore throughout the restaurant including the thoughtfully designed open kitchen. We want guests to be a part of the action while discovering Canadian cooking styles and cuisine.
The Butternut Tree's wine program highlights the diversity and quality of Canadian wines. Our seasonal cocktails feature ingredients such as sumac, sea buckthorn and gooseberries paired with Canadian-produced liqueurs and spirits.
We've worked with our patrons to create two private dining options that will suit the needs of your private group or function perfectly. Of course, if you don't see something that quite fits your requirements, we're happy to accommodate your needs.
Regular Menu
Private Dining Room
Up to 12 guests
Exclusive Use of The Restaurant
10+ Guests
The Butternut Tree staff will circulate the room with canapés & hors d'oeuvres throughout the night as you entertain your guests.
For beverages, we can work with you to create signature cocktails and select appropriate wines to suit your guest preferences.
For a set price, a personalized menu will be created for your group with a choice of appetizers, entrees, and desserts.
For beverages, we can work with you to create signature cocktails and select appropriate wines to suit your guest preferences.
Our personalized group tasting menu can include up to twelve courses at a set price per person. We will accommodate any dietary restrictions and allergies noted prior to the event.
For beverages, we offer wine pairing options or we can work with you to create signature cocktails and select appropriate wines to suit your guest preferences.
Choose Us For Your Next Special Occasion