Upcoming Events at The Butternut Tree
The Butternut Tree
High Tea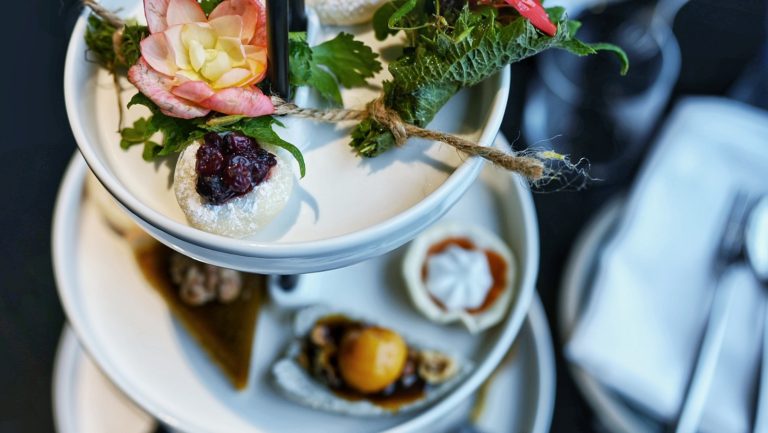 Canada Day High Tea | Sunday, July 2nd
Halloween High Tea | Sunday, October 29th
Christmas High Tea | Sunday, December 17th
Reservations will be available for booking
beginning 2-months prior to date of tea.
Canada Day
High Tea

Sunday, July 2nd 2023
Begining at 11:00am


Menu to celebrate local producers in the city with items from Edmonton bakeries, restaurants, and our favourite farmers market vendors

BAKED
Chartier Bakery Scone
Brio Bakery Viennoiserie
Whipped Butter

SWEET
The Butternut Tree Butter Tart
Confetti Sweets Oatmeal Chocolate Chunk
Duchess Bake Shop Madeleine
Sugared & Spice Treat
Wild Rose Cakes Macaron

SAVOURY
The Butternut Tree Montreal Smoked Meat Sandwich
Green Onion Cake Man Green Onion Cake
Zwicks Cocktail Pretzel
Rge Rd Butchery
Another Local Suprise!

Canadian Tea
Join us on Saturday, July 1st for a 9-course menu focusing on the exploration of Canadian cuisine to Celebrate our Country's Birthday!
Throughout each course you will see representation of Canada's 13 provinces & territories. Chef has taken inspiration for this years menu from each provinces agricultural production and exports.
Great views of the fireworks from restaurant at 11:00pm – if the city/province set them off this year/no fire ban.
Beverage pairings and additional beverages to be available for purchase night of event.
9 course menu | $170 per person
Menu contains: Nuts, Gluten, Dairy, Seafood, Shellfish, Pork.
If you have any dietary requirements please reach out prior to booking as we can not guarantee any alterations.