Upcoming Events at The Butternut Tree
Brunch is Back this January!
Sunday, January 30th 2022
Join us this January as we bring back the popular Sunday Brunch. Chef will be creating an a la carte menu with hits from the past brunch menus along with new exciting dishes! Reservations will be available from 11:00am to 2:00pm via link below. 
BRUNCH MENU

Loco Moco
Braised Alberta Beef Shortrib, Fried Egg, Saskatchewan Wild Rice, Gravy, Greens
TBT Bendict
Poached Eggs, Hollandaise, Greens
Choice of Spinach Florentine, PEI Crab Cake or Broek Acres Ham
Croque Madame 
Broek Acres Ham, Cheese, Fried Egg, Bechamel, Brio Bakery Sourdough, Greens
'Berta Breaky 
Two Eggs, Two Sausage, Two Bacon, Roast Tomato, Brio Sourough Toast, Potato Rosti, Greens
Clafoutis
Stonefruit, Creme Fraiche, Sweetfern, Honey
Bentley Bison & Eggs
Grilled Striploin, Potato Rosti, Roast Tomato, Hollandaise, Greens
Shakshouka
Tomato, Egg, Spinach, Focaccia, Greens
Chicken & Biscuits
Buttermilk Fried Chicken, Fried Egg, Gravy, Greens
French Toast & Foie Gras
Nutmeg, Cinnamon, Whip Cream, Cherries, Medica
Cream & Crunch
Maple-Almond Granola, Yogurt, Strawberry Ice Cream, Berries
ADD ONS
Foie Gras | Caviar | Shaved Truffle | Fresh Fruit | Hollandaise | Gravy | Roast Tomato | Two Eggs | Two Bacon Slices | Two Sausages | Two Pieces Toast | Focaccia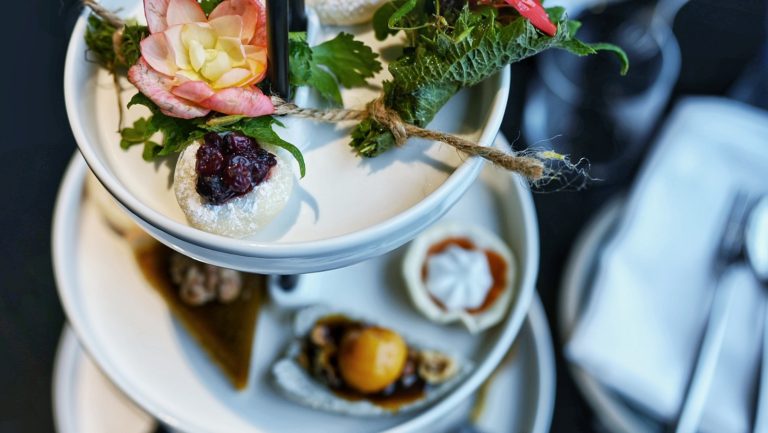 Valentines
High Tea

Sunday, February 13th
Reservations beginning at 11:00am
Lavender & Honey Scone
Traditional Scone
Strawberry Jam
Clotted Cream

Rosé Marshmallow
Chiffon Cake, Sea Buckthorn Curd
Raspberry Macaron, Buttercream
Currant Mousse, Hazelnut Frangipane
Heart Brushed Sugar Cookie

Puff Pastry Vol-au-Vent, Mushroom, Soubise
Prairie Gardens Cucumber, Dill, Pain De Mie
Cured Beetroot, Rye, Horseradish, Shallot
Red Endive, Chicken, Walnut, Dried Cranberry
Foie Gras Mousse, Tart, Sour Cherry

Canadian Herbal Tea

Sunday, February 13th &
Monday, February 14th

Join us this February to celebrate Valentines with a special dinner on Sunday, February 13th and Monday, February 14th from 5:00pm to 9:00pm. 
Three Course Pre-fix menu for $92 per person with special add-ons available to enhance your meal.
A $10 deposit per person will be required at time of booking. This deposit will be refunded when you dine with us for your reservation.
APPETIZERS
choice of one of the following

Roast Beetroot Salad
Buttermilk, Herb Oil, Fresh Herbs, Rye Crumble
Raw Oysters
Apple – Green Alder Mignonette
Roast Carrot & Ginger Soup
Creme Fraiche, Candied Ginger, Crispy Carrot
ENTREES
choice of one of the following

Grilled Alberta Beef Striploin
Carrot Terrine, Black Barley, Broccoli, Pickled Garlic Scape
Cedar Roasted Pacific Salmon 
Rosehip Glaze, Einkorn, Cauliflower, Swiss Chard, Leek
Spinach Gnocchi 
Pea Shoots, Ricotta, Lemon Herb Oil, Puffed Wild Rice, Alpindon Cheese
DESSERTS
choice of one of the following
Canadian Cheese
Accompanied by Alberta Honey, House made Jams, Seed Crisps and Crackers
Cloudberry Panna Cotta
Raspberry Ice, Candied Mint Leaves, Lemon Herb Gel
Walnut Financier
Salted Caramel, Saskatoon Jam, Ice Cream

OPTIONAL ADD ONS ($)
Seared Foie Gras
Shaved Black Truffle
Acadian Sturgeon Caviar
Seared Hand Dived Scallops